Leading the development of sport for people with physical, sensory or learning disabilities, in partnership with key local agencies and local authorities, within Glasgow and the surrounding areas.
  Covid-19 Updates
We are delighted to see participants with disabilities getting back involved in physical activity and sport.
We would like to welcome everyone back to the enjoyment and immense benefit that physical activity and sport can bring. There is plenty of support available and robust measures in place to ensure a safe, inclusive and active environment for you on your return, or those who are participating for the first time.
People who are symptomatic should self-isolate as per info on NHS guidance. No-one who is self-isolating should attend a sports facility or activity.
Our athlete stories
Our athletes phenomenal stories, showcasing what makes sport great!
Help GDS fund it's future activities!
Thank you to Glasgow Community Mental Health and Wellbeing Fund.
AmazonSmile at https://smile.amazon.co.uk/ch/SC042425 and Amazon
donates to Glasgow Disability Sport at no cost to you.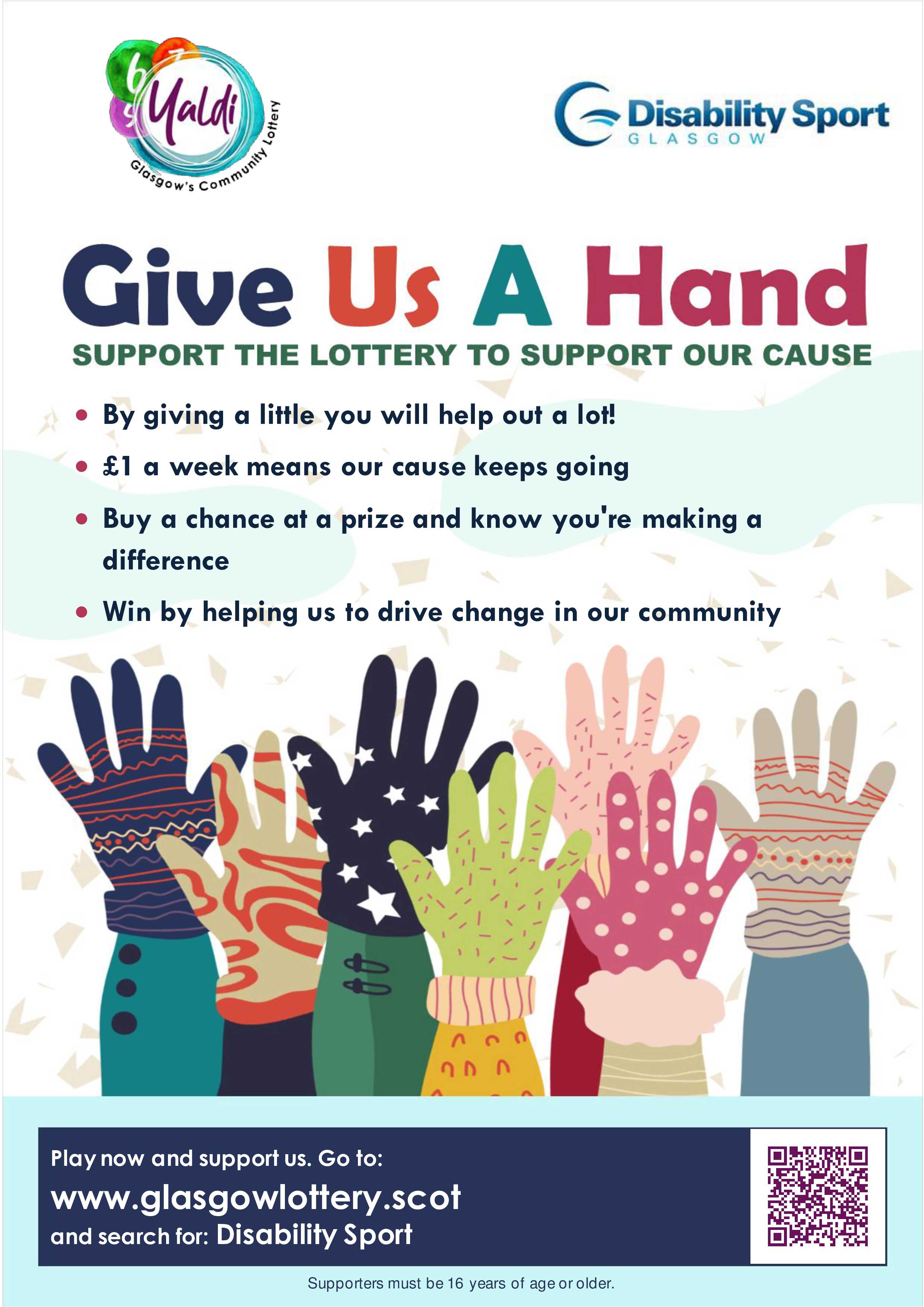 About
Glasgow Disability Sport
We are a volunteer led and run organisation who are passionate about seeing as many people as possible engage in sport or physical activity, regardless of their physical, sensory or learning difficulty. Glasgow Disability Sport is an autonomous member branch of Scottish Disability Sport and participates in national events.
Calendar
Want to know what events are happening?  Our calendar is one of the most comprehensive collection of what is going on in the world of Disability Sports in Glasgow, the West and the rest of Scotland.  
Volunteering
Volunteering can be a great way to gain new skills, meet new people and generally have a great time.
We have many opportunities for you to get involved with Glasgow Disability Sport and/or our member clubs depending on what sport or area you are interested in. Just get in touch to find out more.
Friends of Glasgow Disability Sport
If you prefer to sit by the pool cheering us on, or raising a glass at one of our fundraisers is more your style, we would love to hear from you. Being our friend allows you first access to special event tickets and our newsletter, not to mention the satisfaction of knowing you are part of a top organisation who do great work.
Stay Up To Date
Register Now!
Why not sign up to learn more about getting involved as either a participant or a volunteer. Just fill in the Contact page and let us know what you are interested in.